With ATMs, meet boomers where they live, millennials where they work
August 6, 2014 1:27 pm
Americans are on the move. Literally.
According to research by data specialists at Melissa Data, about 14.19 percent of the American population (about 40 million people) move each year. Of these 23.5 million moved within the same county and 7.7 million moved to a different county within the same state.
That's more than 31 million people moving within the same relatively limited geographic area— and contributing to a total of almost 30 percent of Americans on the move who changed banks along with their address.
This figure, from a new study by TD Bank confirms once again the importance of branch and ATM proximity in bank selection — and by extension, the importance of the ATM to customer retention.
The study of bank changing practices — an extension of the TD Bank Checking Experience Index released late last year — surveyed more than 1,100 Americans to analyze their banking behaviors after they moved.
The survey found that 32 percent of respondents 55 and older opened a new primary checking account after moving, compared with 24 percent of millennials — i.e., adults age 18–34.
Survey participants gave three main reasons for changing banks — none of them terribly surprising: 1) the new bank had branches close to home (57 percent); 2) they wanted to avoid paying fees (27 percent); and 3) the new bank's ATMs were close to home (25 percent).
It's a fine distinction between the second and third items, and it would be reasonable to assume that the fees being avoided are off-us ATM charges. (Particularly since the original TD study found that off-us ATM surcharges ranked a solid No. 1 in the category of "most frustrating fees.")
Those who did not change primary banks after moving cited challenges that included: 1) access to bank branches (13 percent); 2) access to bank ATMs (10 percent); 3) depositing checks (8 percent).
Remote deposit capture will continue to whittle away at the 8 percent number, and the increasing use of remote video teller technology could have an effect on the 13 percent number. As for access to ATMs, it is what it is, and as long as cash remains important to American consumers (and there's no probable end date for that), ATM proximity will remain a significant factor in bank loyalty.
The millennials in the study offered a few interesting side notes and — as is often the case with this group — exceptions.
First, the study found, millennials reported moving more recently than their elders. More than 50 percent said they'd moved within the last two years, compared with 23 percent of Gen Xers (age 35–54) and 15 percent of baby boomers and seniors (age 55 and up).
When preparing to move, millennials placed a higher emphasis on finding new local amenities (such as grocers and drug stores) than did Gen Xers and those aged 55 and up. Interestingly, though, they considered it less important to find a bank close to home — and more important to have one close to their job.
Of millennials who changed banks, 22 percent said they focused on providers close to their workplace, compared with 11 percent for boomers and seniors. Conversely, 64 percent of the older cohort chose a new bank because branches were close to home while a far smaller group of millennials (48 percent) made this their No. 1 criterion.
As with so many other everyday behaviors, millennials defy long-accepted norms for selecting a financial institution. But as usual, there's a logical reason why. In this case it's because they also prefer living in urban areas — by a margin of 62 percent to 38 percent according to Nielsen. In this sense, most are still choosing to bank where they live.
"This survey reveals that consumers across all generations value banking relationships that are convenient for their lifestyle," said Lindsay Sacknoff, senior vice president and head of retail deposit products at TD Bank. "It is important for those who are looking to move or have recently moved to evaluate their banking needs and find the best fit for them — such as finding a bank a with large network of ATMs or stores."
According to Statistic Brain, 81 percent of adults who manage their household accounts have banked online within the past year. Nineteen percent have banked via mobile within the same period.
These channels, which can be used anytime, anywhere, continue to grow in functionality and popularity — especially mobile, as more banks begin to see the imperative and seize the opportunity that mobile banking apps present. And yet, branch and ATM locations continue to be the strongest influencers in bank selection.
When it comes to needs like cash or personal financial assistance, other channels just cannot deliver what the branch and the ATM can.
At a time when ATMs are acting more like branches (i.e., video teller machines that can perform up to 95 percent of everyday teller transactions), and branches are acting more like oversized ATM vestibules staffed with live bankers, it seems that the financial industry has exactly the right rabbits in its hat to create the magic of an ideal customer scenario to suit two immense, dramatically different but equally important customer cohorts.
So … to paraphrase  physicist, neurosurgeon, test pilot, rock musician and sci-fi/action-adventure hero, Buckaroo Bonzai, "No matter where they go, there you are."
(Source: ATMMarketplace)
GET CONNECTED
 
Consumers' real-world cost of cash: A defining moment for ATM deployers and merchants
July 22, 2014 9:42 pm
Consumers run into plenty of tacked-on charges in today's world — hello airline baggage fees! — but the ATM fee, small as it is, is up near the top in terms of generating aggravation. There's just something patently absurd and beyond annoying about paying money to get your money.

— Time
Consumers believe that they have worked hard for their money and, with the abundance of independent ATM locations, the only differentiation they notice is price, not convenient access. In order to truly understand why consumers hate ATM fees so much, we must first know our customers and listen to the feedback we receive concerning the losing value propositions they may encounter while transacting in the local marketplace.
The landscape of local commerce
The Federal Reserve reports that one-third of consumer transactions are less than $10, two-thirds of which are paid for in cash. However, in an urban market like New York you'll likely run into the inevitable sign at the cash register of your local deli or bar saying "cash only" or "Minimum for Debit/Credit Cards: $10." This leaves consumers searching for cash, and the convenience of many merchants to have an ATM is not always in the consumer's favor.
Let's use a transaction at a local juice bar in Prospect Heights, Brooklyn, as a real-world example. As a first-time customer, I ordered a $6 smoothie. When attempting to pay for the item, I was abruptly told: "Cash only! But, there's an ATM for your convenience in the store."
The surcharge-fee was $2. The problem here is that as a consumer, I'm now paying 33 percent more for the cost of my desired product. Had the merchant accepted debit/credit cards for a $6 purchase, they would have paid typically between 2.75 percent and 4.25 percent.
However, in this type of environment, the consumer is footing the transactional cost and actually paying 7.7 times to 12 times the rate the merchant would have paid in interchange.
It's concerning that those merchants oftentimes don't recognize this impact to the consumer and to the quality of service they are providing when combining a cash-only policy with a high surcharge fee.
If I had left the store, I never would have enjoyed a smoothie that day, as there were 15 other businesses that housed ATMs on the same street, all with similar cash-only policies or minimum purchase amounts for using a debit or credit card. Some merchants even charged 50 cents to $1 as a surcharge for accepting debit or credit cards.
Consumers look at their transactions on an individual level and each time they encounter fees, they mentally register the consistently high cost of transacting within the local marketplace.
Lack of differentiation among IAD offerings
When surveying the surrounding neighborhood of Prospect Heights, Brooklyn, we found 82 independently owned and operated ATMs with an average surcharge of $1.84, compared to three bank-owned ATMs with an average surcharge of $3.
With 82 ATMs — all providing virtually the same service of cash withdrawals, balance inquires and account transfers — there is little differentiation among these operators and their value proposition to the consumer. The only factors consumers have to differentiate one ATM from the next is price, location, and quality of user experience.
Fortunately, in markets such as New York, IADs are recognizing that price and liquidity are more than just competitive differentiators. The impact of a lower surcharge can actually improve per-transaction unit economics for the IAD.
The need for consolidation and price correction
We're starting to see a price correction for ATM fees in NYC similar to that of the single-slice pizza market (big business here!) When prices approached $2.50 to $3.50 a slice and there was an abundance of venues selling single slices, one enterprising outfit introduced the 99 cent slice. Today, this business has grown to cult-like status across NYC with no shortage of customers, while the venues holding steadfast to their $2.50 slices are typically evidenced by stale-looking slices sitting on the counter, hour after hour.
At the core of this price correction was a basic need of the consumer: a simple inexpensive meal at convenient locations throughout the city. The way consumers consume pizza has not changed in the last 20 years and neither has the manner in which consumers withdraw cash from independently owned ATMs.
In the retail ATM industry, the user experience has seen little innovation and so consumers begin to wonder why the price is so high to transact in a local marketplace that provides abundant opportunities to access independent ATMs.
Innovation in the financial institution market has grown to include check and cash deposits, statement printing, interactive video teller services, tablet-style user interfaces, and custom user preferences.
Despite the innovation, FIs are topped out at $3 per withdrawal, given marketplace tests by Chase in 2011. In that same year, a GAO report (released in 2013) notes that 92 percent of transactions at FIs' ATMs didn't cost consumers a surcharge fee. So consumers are experiencing this innovation at the FI level, for little to no cost to transact.
Conclusion
With an abundance of options available to consumers and with the price of an ATM transaction remaining relatively high, IADs will need to become more creative in how they provide the most basic of services to the market.
Consumers are creatures of habit. If they know the ATM at McDonald's charges 99 cents, or that it's surcharge-free because their financial institution is a member of Select-A-Branch, Allpoint, MoneyPass, SUM or Co-op, they won't go out of their way to find any other budget-friendly ATM option. They might, by default, start searching for a McDonald's, or a Wawa convenience store with a PNC machine.
While many forward-thinking IADs believe that it's a race to zero in terms of price, the true opportunity is to shift the transactional cost from the consumer to marketers trying to reach the consumers while "out-of-home" or near the point of sale.
The win-win concept of ad-supported models powers most of today's many consumer-facing content brands — including YouTube, Pandora, Google, and Facebook. All of these primarily use targeted advertising as a source of revenue to offset cost to the consumer. With EMV upgrades on the horizon, the opportunity is upon IADs now to consider challenging the status quo and differentiating their ATMs.
by Clinton Townsend and Eric Fondren
Co-founders of FreeATM
(Source: ATMMarketplace)
GET CONNECTED
 
Why do consumers hate ATM fees so much?
July 14, 2014 1:05 pm
Early last month, I came across something in an article published in Time* that bothered — no,irritated — me. "No More ATM Fees? Sign Us Up!," the headline ran.
This, wasn't the annoying part, though. Everyone knows there are no fees when you use your own bank's ATMs, right? So in effect, you're automatically "signed up" upon opening an account.
What really irked me about the Time article was this:
Consumers run into plenty of tacked-on charges in today's world — hello airline baggage fees! — but the ATM fee, small as it is, is up near the top in terms of generating aggravation. There's just something patently absurd and beyond annoying about paying money to get your money. (emphasis, Time)
You don't say. If ATM deployers had a dollar for every time someone moaned about ATM fees, they could all go to Aruba for a month and let cardholders rediscover the joy of queuing at the teller window during bank hours to cash a check.
Then it might dawn on them that it's not their money they're paying for, and that the bank is not holding their cash for ransom any more than the dry cleaner is holding their clothes for ransom until they pay up. Customers understand that they're paying for a service when they have their suit cleaned, and while they might not be happy about it, they're generally not writing to their representative to complain about having to pay to get back clothes that belong to them.
The problem is simply that consumers have not been taught to see the ATM as a service. And where education is absent, ignorance steps in with all kinds of silly notions, including one that says ATM surcharges are part of some vast Big Bank conspiracy to rip people off.
And the mainstream media doesn't help much when it conveys partial or incorrect information. A story by a Nebraska news station about the end of dual fee notices was so poorly researched that readers inferred they'd have no choice or control when it came to what they would henceforth be charged for transactions. "Now they can charge whatever they want and you won't know until after the fact," one reader commented.
In January 2013, I stumbled across an online post that so surprised me that I saved it on my laptop. In the comments section of an online news publication, a Siam Commercial Bank customer complained about being charged a fee for a "two-in-one" ATM/debit and credit card. "Banks will alienate customers," the subject line for the comment warned.
Below it was another post with a subject line that said, "Card charge allows ATM expansion." In it, a member of SCB corporate communications explained:
While the customer correctly [acknowledges] that there are operational fees associated with the provision of ATM services … [she] underestimates the extent of the many operational fees involved. These include expenses associated with the rental agreements, maintenance requirements, telecommunications charges and more that are required to make an ATM network available.

To ensure that our customers are never far from an ATM location, SCB spends a considerable amount of money maintaining and expanding the largest ATM network in Thailand, in over 8,000 locations. … [The new fee] will ensure that our customers enjoy the convenience of never being very far from an SCB ATM machine, and allow the bank to further expand our ATM services.
What struck me about this was not that someone needed to explain all of this to a customer, but that someone actually did.
This spring, publications in London reported on the shameful absence of bank-sponsored ATMs in a particularly poor part of the city. Residents had to pay a fee to use the sole, IAD-owned ATM in the area or hike some distance to the nearest bank-owned machine to get cash.
Rather than calling upon the banks to support their cardholders, a local MP arm-twisted the IAD into providing its services at no charge. Then people began to complain that this machine — which generated nothing but cost for the operator — wasn't being replenished often enough.
So it seems that legislators, too, must be taught that an ATM industry without the means to support itself has no incentive to serve the public.
After a lobbying junket in at the Capitol to push for new EFTA rules, one longtime industry member told me that legislators were mostly clueless about how networks operated. This is worrisome. Because when an entity that doesn't understand your business has control over its revenue-generating capacity, it's is not a good thing. When the entity begins to think that calling this capacity "usurious" is a winning campaign sound-byte, it's a really, really bad thing.
Fortunately, this is a problem that can be remedied. Even more fortunately, the ATM has the unique advantage of having customer education tools built right in — i.e., its video screen and receipt printer. What's more, it has a target audience that voluntarily steps up and stares at — and then pockets — this media on a regular basis.
Operators could be using these resources to tell the straight story about ATM fees: "Why aren't all ATMs free?" "Where do fees go?" "What is an ATM network, anyway?" "How much does an ATM cost?"
The industry should be chatting up a storm about itself, sharing important information in an interesting, non-sermonizing way. They could even be making it fun — and multichannel — for their audience with related trivia, interactive contests, and (to use that awful word) "gamification."
At the very least, operators could be setting up their machines to display the message, "What's it worth to you not to have to wait until tomorrow to go to the bank and wait in line to cash a check? $2.60? All right then. Let's have the card."
At a time when ATM operators are seeking new revenue streams, they also could be doing something inexpensive and effective to protect the ones they already have. Or they could wait — and fight for their livelihood on the Hill.
*The Time story was about Free ATM, a company whose business model involves helping IADs sell screen media time on their ATMs to advertisers. In theory, this would allow them to operate surcharge-free.
by: Suzanne Cluckey
(Source: ATM Marketplace)
GET CONNECTED
 
 
The Coming Civil War
May 20, 2014 1:19 pm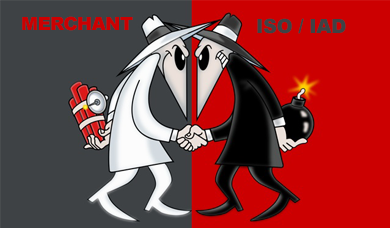 Despite reports to the contrary, our experience is that most ISOs acknowledge that EMV is inevitable and have already begun adjusting their purchases of new ATMs to reflect this reality. Year-to-date sales of U.S. ATMs with EMV card readers are already over 70% and are headed towards 80%. What about the remaining 20-30%? What are these ISOs thinking?
Well it turns out that nearly all ISOs who continue to purchase ATMs with magnetic stripe card readers claim that it is their merchant customers either don't want EMV readers or are not willing to pay the additional cost. This is a real problem. In fact, it may represent an even larger challenge for ISOs than the logistical nightmare of upgrading, replacing or removing nearly 300,000 retail ATMs in the next 30 months.
Merchant reluctance will be time consuming.  Reviewing every merchant contract to determine who is responsible for upgrades or replacements is the first step in EMV conversion. Closely related to the legal review is a profitability review of merchant accounts and sites. Most ISOs have completed or at least begun these evaluations. Conversations with merchants about timing and payment for EMV upgrades is the next step in the process. Unfortunately, this is where many ISOs have already gotten bogged down by a lack of merchant education or concern about EMV and liability shift. Having widely ignored PCI and ADA mandates already, merchants are having a hard time believing that EMV will be any different. Educating merchants about the risks of waiting or of operating magnetic stripe ATMs post-liability shift will likely be a time-consuming and frustrating exercise for most ISOs.
 Merchant reluctance will be expensive. Regardless of the details of merchant contracts, ISOs will be forced in many cases to finance the upgrade or replacement of ATMs at merchant sites. Presumably these will be the more profitable sites and in exchange ISOs may be able to secure extended contracts with favorable terms to protect their portfolios. However, these decisions will be painful, as EMV costs will not generate additional revenue for ISOs – they are often purely a defensive maneuver. Unlike inexpensive POS devices, ATM EMV upgrade/ replacement will cost between $500 and $2,500 per terminal. In addition, shortages and costs of field service technicians and hardware are likely to grow as we approach the 2016 (MasterCard) and 2017 (VISA) liability shift deadlines. Merchant reluctance to upgrade for EMV will likely be expensive for U.S. ISOs.
Merchant reluctance will result in lost business.  Aggressive ISOs have already started discussions with merchants in the hopes of poaching sites from "wait and see" ISOs. However, the risk of lost business is not confined to just higher transaction sites. At locations where both the merchant and the ISO balk at funding EMV upgrade or replacement, the result will likely be a stalemate. As we saw in Canada, these low transaction sites will continue to operate until either processors shut off non-EMV terminals or until a breach occurs. Alternatively, a more aggressive competitor may even poach these merchants, upgrading or replacing hardware in the hope that transactions will increase. Either way, many ISO portfolios will likely shrink as a result of merchant reluctance in the face of EMV.
 Merchant reluctance will be result in litigation.  Under liability shift, total fraud costs will be passed from the card schemes to the non-EMV link in the transaction chain. Presumably the issuers will begin raining down chip cards on customers later this year, while processors are busy licensing AIDs and sorting out routing challenges to accommodate EMV. Assuming processors continue handling magnetic stripe transactions after liability shift deadlines, ISOs and merchants will be frighteningly exposed. Look for heated legal battles between ISOs and merchants when five and six-figure fraud claims start being doled out by the card schemes.
EMV conversion is a tricky proposition for ISOs. Handled well, it represents a chance to solidify and grow portfolios. Handled poorly, ISOs risk a time consuming, expensive and even litigious civil war with its own customers.
by: Daryl Cornell
(Source: atmAToM)
U.S. EMV Migration Guide: What You Need to Know
The Guide addresses EMV and why the U.S. is migrating to chip and PIN technology, what you should be doing now to prepare for the October 2016 MasterCard liability shift.
GET CONNECTED
 
6 Reasons Why Cash is Still The King of Payments
May 13, 2014 1:12 pm
Despite all of the talk about credit cards, debit cards and mobile payments, cash still dominates many forms of payments. In fact, any talk about a cashless society seems tremendously premature.
"Debit card use is up" … "The check is an antiquated form of payment" … "Mobile wallet usage is about to take off."
You can't open a bank or credit union publication today without hearing about the transformation (and disruption) of the payments industry. New players are emerging, with established financial institutions trying to keep up with digital payment innovations.
Despite all of this chatter, however, a Federal Reserve report from the Diary of Consumer Payment Choice (DCPC), suggests that cash is still king. The study found that consumers choose to use cash more frequently than any other payment instrument, including debit or credit cards for the following reasons:
Cash plays a dominant role for small-value transactions
Cash is the leading payment instrument for specific types of purchases
Cash is the key alternative when other options are not available
Cash is the leading payment alternative for Gen Y
Cash is a primary payment option for lower income segments
Cash can't be hacked
The Paradox of Cash
There are two main reasons that the much-hyped 'cashless society' has not arrived. First, cash continues to remain popular for use in small-dollar transactions by all segments of the population because of its convenience. Second, a rather significant segment of the population remains unbanked or underbanked, thus without access to the primary alternatives to cash. This creates an interesting paradox between the popularity of cash and the value of cash transactions.
"Despite the hype around mobile payments, checks are used 14 times more than mobile devices for payments."
In the Fed study, the average American consumer had 59 transactions, including purchases and bill payments, with 23 of these 59 payments involving cash. The graph below shows that, at 40 percent, cash makes up the single largest share of consumer transaction activity, followed by debit cards at 25 percent, and credit cards at 17 percent.
Electronic payments account for 7 percent, while checks make up 7 percent. All other payments represent less than 5 percent of monthly transaction activity. Interestingly, despite all of the hype around new forms of digital P2P transactions, text and mobile payments barely register at less than one half of one percent.
While the number of cash transactions is high, cash accounts for a relatively small share of total consumer transaction value at 14 percent, with electronic payments making up 27 percent and checks 19 percent. In fact, the average value of a cash transaction is only $21, compared with $168 for checks and $44 for debit cards.
1. Cash for Low-Value Payments
As shown below, consumers typically use cash for the large number of small value payments that occur each month. According to the study, about one-third of the average consumer's monthly payments involve transactions with a "ticket size" less than $10 and two-thirds of these transactions are done with cash. Similarly, consumers use cash for half of all of their transactions valued at less than $50.
As can be seen, both the number of cash transactions and cash's share of transactions fall as the payment value rises. Alternatively, the number of card payments remains roughly the same regardless of transaction amount. Once the size of payment rises above $100, the number and share of electronic payments and checks become significantly more prominent, in part due to the influence of bill payments.
2. Cash for Specific Uses
The research on the use of cash found that cash is the number one payment choice for several expenditure categories, including:
Gifts and other person-to-person (P2P) transactions
Food and personal care supplies
Entertainment
Transportation
Medical, educational, and personal services
Government and nonprofit expenditures.
It is the second most frequently used payment option for all other categories except housing
For the most part, the average ticket size for many of these expenditure categories is relatively low, in alignment with the first reason that cash remains a prominent transaction choice. Debit cards also tend to be used frequently for these expenditures, indicating that using cash for these transactions was not driven by a lack of other payment options.
The research also found that consumers use cash similar to how they use debit and credit cards. The use of credit and debit cards by expenditure category is correlated to that of cash, with food and personal care items making up the largest share of consumers' use of these instruments. In contrast, consumers seldom use checks for these sorts of day-to-day expenditures.
P2P transactions is one area where cash aligns more with check usage than cards, mostly because convenient usage of cards for P2P is not readily available (Square Cash, Google Wallet and PayPal for P2P are still not gaining significant traction). However, while cash is used for more the majority of P2P transactions, these transactions make up a relatively small share (6 percent) of all cash transactions.
3. Cash as a Back-Up Option
Cash is not the #1 payment choice by the majority of consumers, but it plays a significant role as the fallback payment instrument for most consumers. According to the research, 43 percent of consumers say that the debit card is their payment instrument of choice, while 30 percent of consumers say they prefer cash and 22 percent say credit cards. In all of these cases, the consumer actually uses their preferred choice more than half of the time.
"For consumers who prefer a non-cash payment option, cash is their secondary choice"
When asked about their backup payment option, however, most consumers who preferred a non-cash payment instrument declared cash as their second choice. Sixty percent of consumers who prefer the debit card, for example, picked cash as their second choice. A similar observation holds true for other payment instruments.
Interestingly, debit and credit card customers do not prefer the alternative plastic option as their secondary choice. Possibly reflecting attitudes toward credit use after the financial crisis, consumers who prefer debit cards use the cash alternative 36 percent of the time, while only using credit cards for 7 percent of their transactions.
4. Cash Preferred by Gen Y
Consumers of all age groups list cash as their preferred payment instrument, yet 18 – 24 year olds actually prefer cash at a higher percentage (40 percent) than any age group. At the same time, this age group also has the highest preference for debit cards, potentially because they have limited incomes and therefore limited access to banking services.
Alternatively, older consumers are more likely to prefer credit cards and checks than younger adults – and are less likely to prefer cash. This affinity to credit cards by seniors, relative to other age groups, is most likely attributable to income, wealth and the tenure of financial relationships. As shown below, virtually no consumers younger than 35 prefer checks, which the study attributes more to engrained habits than a true preference of checks as a convenience payment option.
As with the trends found throughout the study, young adults use cash far more than any other option (based on number of transactions), while all age groups tend to use cash more than their stated preferences would indicate.
5. Cash Preferred by Unbanked and Underbanked
The study found that 55 percent of consumers with household incomes less than $25,000 per year prefer cash over non-cash payment instruments, while those households making more than $200,000 per year exhibit a very strong preference for credit cards. In fact, the preference for cash declines sharply once household income exceeds $25,000 per year, with debit cards cited as the preferred payment instrument for all those in household income groups between the two extremes.
Interestingly, despite the declining preference for cash as income rises, all income groups use cash approximately the same number of times a month (22 times) regardless of income. The difference is that those making less than $25,000 annually use cash for a much wider variety of transactions, and for greater transaction amounts, than do those with higher household incomes.
Consistent with this, the total value of low-income consumers' cash spending, at $558 per month, is much higher than any other income group's cash spending. Low income consumers also use cash for bill payments like housing more than the average consumer most likely due to a lack of access to mainstream banking services.
6. Cash for Safety
One additional reason why cash is king that was not covered by the Fed study is that consumers are becoming wary of the safety of debit and credit cards. In a study by Balance Innovations, only 39 percent of consumers were 'very confident' in the safety of plastic as a payment option. While the issue of safety was more prominent with older consumers, 52 percent of younger consumers were either 'somewhat confident' or 'not confident' in credit/debit safety.
Could this be an indicator that cash transactions are actually on the rise? According to the study conducted after the Target data breach, 32 percent reported they would be using cash as a method of payment more frequently. Most interesting, 46 percent of the younger shoppers that claimed to be the most confident in credit and debit cards plan to use cash more, the highest level of any other age group.
What's Next
Several studies provide evidence that cash continues to be a viable (if not preferred) payment option for all categories of consumers. While being the dominant payment option for the lowest value transactions, cash is also preferred for certain types of transactions and is the secondary choice for those that prefer cards or checks. Finally, low-income consumers will continue to be heavy cash users as long as mainstream banking alternatives are not available.
And, while other digital payment alternatives continue to be promoted heavily, their impact on the marketplace to this point has been virtually non-existent.
So, while the use of cash may be declining, we are far from a cashless society or one that will quickly embrace digital payments, especially for low ticket purchases. Until the financial community can provide an alternative that is as widely accepted, convenient and breach-proof as cash, dethroning cash as king will be difficult.
By Jim Marous
(Source: The Financial Brand)
GET CONNECTED
 
The Real Barriers To a Cashless Society
May 12, 2014 12:50 pm
In response to the recent article in Retail Banking Strategies reviewing the Federal Reserve study on the use of cash for payments, Dave Birch provides a perspective on why cash may still be king.
The recent Retail Banking Strategies article, "6 Reasons Why Cash is Still The King of Payments" reviews the recent Federal Reserve report from the Diary of Consumer Payment Choice (DCPC). It's a great post and you should go and read it, but I wanted to draw attention to the headline conclusions of that report:
The study found that consumers choose to use cash more frequently than any other payment instrument, including debit or credit cards for the following reasons:
Cash plays a dominant role for small-value transactions
Cash is the leading payment instrument for specific types of purchases
Cash is the key alternative when other options are not available
Cash is the leading payment alternative for Gen Y
Cash is a primary payment option for lower income segments
Cash can't be hacked
I am curious about the extent to which of these reasons represents a serious barrier to electronic payments and the rate of change of the strength of that barrier since, for many of our clients, this will impact their electronic payment strategy. So, I thought I would comment on each of them in turn and see how my impressions are received.
Cash Plays a Dominant Role for Small-Value Transactions
This undeniably true and one of the reasons why the overhead of cash handling is becoming a problem for a great many kinds of businesses. I was surprised to see that the average cash transaction is $21 (I'd assumed it would be smaller by now). I would never dream of making a transaction that large with cash.
No-signature stripe in the US and contactless EMV everywhere else are eating into cash transactions at the low end, and when mobile gets its act together, I expect the fall to accelerate (because, as the cost of cash handling falls on fewer transactions, the overheads will go up).
Cash Is The Leading Payment Instrument For Specific Types of Purchases
I'd assumed that this meant drugs, corrupt politicians and prostitution, but it turns out that the Feds were referring to things like person-to-person, gifts, entertainment and so on. Gift cards (and especially mobile e-gift) and the expanding panoply of P2P services will attack these kinds of transfers. Note that the poor use cash for a wider range of purposes than the rich (more on this shortly).
Cash Is The Key Alternative When Other Options Are Not Available
Well, I would have thought that anything is a key alternative when "other options are not available". I took this to mean when electronic alternatives fail. But look at what this retail manager says:
"And losing power and/or communications does NOT stop us from accepting cards. It will, however, prevent our CASH registers from operating in a secure and auditable fashion." – (Paper Or Plastic: How Americans Buy Stuff, In 1 Graph : Planet Money : NPR)
I think within these words we see the key to the cash conundrum. The key is the phrase "secure and auditable", of which cash is neither. Sure, if I'm trying to evade tax and hide a transaction, I have a strong preference for cash and its implicit cross-subisidy from the honest to the dishonest. But we should not be structuring national payments policy around the optimal implementations for organized (ie, unelected) and disorganized (ie, elected) crime.
Cash Is The Leading Payment Alternative For Gen Y
I find this odd, since I have current and detailed knowledge of the transaction patterns of a couple of Generation Whatever exemplars and I interact with them entirely through PingIt and mobile banking. They have both had debit cards since they were 13 and, since no.2 son lost a £5 note while out cycling one day, wouldn't dream of using cash to buy anything other than the most trivial purchase, or where retailer policy forces them to.
Cash Is a Primary Payment Option For Lower Income Segments
This is a serious issue and, I think, the meat of the point I want to make to comment on the Retail Banking Strategy article.
"In contrast, the poor — tens of millions of people in the U.S. and billions of people worldwide — often have no option but cash, and pay dearly because of it." – (How Cash Keeps Poor People Poor, Digital Money Is Future | Business | TIME.com)
This point, to me, is the most significant because it underpins the moral case against cash that is distinct from the technical and business cases that we (ie, the industry) spend most of our time calculating and recalculating.
"To completely dispel the myth that anonymous financial transactions are a tool of the little guy, our rigorous economic research—led by a former senior IMF economist—conclusively demonstrates that unrecorded financial transactions significantly exacerbate income inequality: making the rich richer and the poor poorer." – (Why Bitcoin And Other Cryptocurrencies Will Inevitably Become Tools Of The Rich, Powerful, and Criminal – Business Insider)
The fact that cash is the primary payment option for lower income segments is a comment on the failure of the payment industry, not a redoubt against the electronic payment invasion. Nothing in the Federal Reserve report represents a real barrier when it comes innovation around the alternatives to cash.
Cash Can't Be Hacked
In the UK, the government is in the process of redesigning coins (at colossal and pointless expense to industry) because of the high number of counterfeit coins in circulation. The old £50 has just been withdrawn and a new one with more anti-counterfeiting technology on board has been introduced. Cash can't be hacked? It is every day, as well as being lost, stolen and hidden.
So, the fact that cash is still used so extensively may be due to external inefficiencies as opposed to conscious consumer choice. Aren't electronic payments a better alternative for the reasons described above?
By Dave Birch, Global Ambassador, Consult Hyperion
(Source: The Financial Brand)
GET CONNECTED
 
Donation feature to go live on Triton ATMs this month
May 8, 2014 12:51 am
Beginning this month, Triton ATM owners will be able to offer their customers new functionality that enables them to make charitable donations at the ATM. The donation can be made as part of a regular bank transaction, or as a stand-alone gift.
The program was developed by Triton Systems of Delaware LLC and Digital Processing Solutions, developer of the Digital Donations fundraising technology. This new platform will provide nonprofits with the opportunity to raise money for causes that touch the lives of millions of individuals and families.
The Digital Donations platform will give ATM users the opportunity to make a donation to the American Heart Association, the Alzheimer's Foundation of America, Champions for Kids, The Humane Society of the United States, the National Multiple Sclerosis Society and others to be announced soon. In addition, ATMs can be enabled to accept donations in the aftermath of a local, national or global catastrophe.
"We project installing the platform on over 100,000 U.S. ATMs over the next three years; providing consumers with a convenient way to support nonprofits," said Keith Orlean, president of Digital Processing Solutions. "In addition to fundraising, the program provides nonprofits with the opportunity to raise awareness for causes through public service announcements, on screen marketing and by branding the ATMs with a Digital Donations wrap including the charities and sponsorship partners."
"It's a win-win for nonprofits and ATM deployers," said James Phillips, VP of sales and marketing for Triton. "Not only is it a great way for consumers to support charities, it's an opportunity for ATM deployers to differentiate themselves from the competition and to help their merchants increase traffic."
The Digital Donations platform will be made available to Triton RL series owners in April. Argo series ATM owners will be able to download the software shortly after the initial launch.
(Source: ATM MarketPlace)
GET CONNECTED
 
Staying Ahead of ATM Skimmers
May 7, 2014 12:59 am
ATM security is like an on-going race between the good guys and bad guys. As soon as the industry develops a technological advantage to defeat ATM skimming, it seems criminals find another way to steal card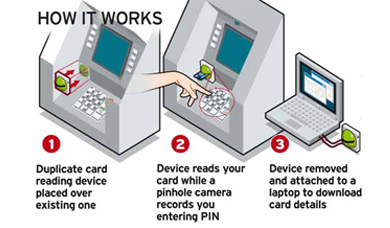 data.
Last year, ATM skimming attacks jumped by 12 percent and now represents 92 percent of all fraud at the ATM — making it the number one ATM crime globally.
ATM skimming is a global threat with low risk and high profit for organized crime. The 2.5 million ATMs worldwide are an attractive, lucrative target for criminals, says Claire Shufflebotham, global security director with TMD Security.
Global losses from skimming are estimated at over $2 billion annually and growing. According to a report from the U.S. Secret Service, the cost of an ATM skimming incident in the U.S. has risen to $50,000 on average, up from $30,000 a few years ago.
With the global migration from magnetic stripe to EMV technology, experts warn card fraud will shift to the weakest link — to countries like the United States that have not widely adopted chip and PIN technology.
John Buzzard, client relations manager for FICO Card Alert Service, predicts the types of fraud we saw in 2013, such as the malware incident on ATMs in Mexico and corporate security breaches, will continue in 2014.
He says statistics show fraudsters prefer ATMs located at financial institutions. However he cautions that as we move to a more self-service environment and begin using kiosks that accept cards and PIN numbers, we will begin to see more fraud at non-traditional locations such as post offices, cafes and transit authorities. In fact, statistics show this is already beginning to happen.
Understanding ATM Skimming Technology
Digital and analogue skimming attacks are the most common techniques used by criminals to steal data stored on a magnetic stripe.
In a digital skimming attack, criminals place a device which looks like a card reader on the ATM and copy the data when the card is passed over the device. The data is typically stored in the memory of the skimmer and is downloaded to a PC where it can be read and used to make fake cards. In an analogue card skimming attack, criminals record the sound of the card data signal during the transaction. The data is then retrieved from the recording and used for fraudulent purposes.
Douglas Russell, director of DFR Risk Management, says anti-skimming devices have been extremely successful in distorting card data; making it more difficult for criminals to extract card data. He says ATM skimming devices which use a form of electromagnetic signals to distort or jam the data are a very good defense against digital and analogue skimmers.
But, he says, criminals don't give up and there is no lack of technology available to assist them in their fraudulent endeavors. As the industry responds to skimming attacks, we are seeing criminals improve on the effectiveness of their technique and develop new technology to defeat preventive measures.
A new form of skimming technique called a stereo skimming undermines anti-skimming solutions. In this type of attack the criminal uses a skimmer with two heads which allows them to record both the jamming signal and the card data signal. The card data signal is then excluded from the jamming signal and converted it into an analogue or digital format.
Russell says there is no proof stereo skimming is being used today in the marketplace. However it is extremely feasible and he predicts we will begin to see more sophisticated skimming techniques like stereo skimming in the near future.
EMV's Impact on ATM Skimming
Despite EMV migration around the world, card fraud is still a major problem and losses continue to rise as non-universal adoption of EMV fosters cross-border fraud.
In 2012 with full adoption of EMV technology at the ATM in Europe, deployers reported skimming attacks fell by seven percent. But international losses increased by 55 percent that same year, according to Shufflebotham's presentation. Criminals simply moved to the weakest link and are now committing fraud in countries that have not fully implemented chip and PIN technolgoy such as the United States, Dominican Republic, Brazil, Mexico, Peru and Thailand.
EMV chip technology is far more secure than magnetic stripe and virtually impossible to skim. However until magnetic stripe technology is completely phased out, it will continue to be an attractive target for criminals because it is easy to steal, according to Buzzard.
And so the race to between the good guys and the bad guys goes on … until the entire world fully implements EMV technology.
ATMIA members can download Best Practices to learn more about tried and true methods to combat ATM skimming.
May 6, 2014 By Nancy
(Source: ATMatom)
GET CONNECTED
 
The Payments Networks' Next Real Threat
May 5, 2014 10:18 pm
I'll bet that very few people paid much attention to last week's launch of Paym in the UK. Paym is a mobile payments network that enables registered users to send money to each other, funds that are drawn from their checking accounts. It's now available to 30 million people in the UK who bank with Bank of Scotland, Barclays, HSBC, Lloyds, Santander, Cumberland Building Society, Dankse Bank, and TSB. Paym's operator, The Payments Council, says that there are plans to soon expand it to include 90 percent of UK bank accountholders or some 40 million people.
Mobile phone numbers activate payments thru Paym. In order to receive money, a bank account at one of the aforementioned banks must be registered to a mobile account number. Senders don't need to register a mobile phone number if they have an existing mobile banking or payment app with any of those banks.  At the moment £250 (about $422) can be sent daily, although some banks have set higher daily limits. Payments made using Paym are said to "happen at the same speeds as current account, online and mobile payments services."  So far, there's no charge to senders or receivers.
Say hello to a new set of payments rails, folks, and a platform that could give existing payments rails a migraine.
Paym connects via ACH everyone, at least potentially, with a bank account in the UK – everyone. Now, of course, consumers have to opt-in and register their account to use the service, and a recent survey said that many UK consumers were a little squeamish at the thought. But, Paym and the Payments Council has created the infrastructure, the rules, and the platform to enable payment among anyone with a bank account – people and businesses. Use cases are the usual P2P ones like paying the babysitter but could conceivably expand to include those P2SMB use cases like paying the math tutor, handyman, dog walker, piano teacher, landscaper, electrician and just about every small business owner who'd like money deposited directly into their bank accounts without having to mess around with card acceptance and/or mPOS solutions and network-mandated merchant discount fees.
Here's the kicker.
At the moment, according to the UK Cards Association's latest report (February 2014), 32.5 percent of spend in the UK was done on debit cards, up 8.3 percent from the year before. That's compared to 13.6 percent of spend done on credit cards. The biggest increase in the debit numbers is attributed to services – the electricians, plumbers, tutors, manicurists, restaurants – in other words, non-retail small businesses.
Let's suppose Paym gets a head of steam, and a good portion of those 30 or 40 million account holders get over their current heebie jeebies and start to use it and use it to pay the math tutor and landscaper. Maybe the math tutor is next door neighbors with a pubmaster who wants in and figures that all he has to do to avoid paying debit card merchant fees is set up a mobile phone number linked to his pub's bank account to enable those customers to pay their bar tabs using Paym at his pub. At the moment, the Payments Council refers inquires about using Paym to pay businesses to individual banks, I suppose, because they don't want to implement rules at a network level that could cannibalize bank's merchant acquiring businesses until they get a business model in place. But my guess is that they'll at some point create a scheme that keeps whatever "merchant discount" is assessed from Paym transactions in the Paym network and off the Visa/MC debit network rails. If that were to happen for SMBs, it probably wouldn't take long for the interest to escalate to larger merchants who might like to an alternative that breaks their ties to the established networks' payments rails.
See what I mean about the potential for a massive headache?
Now let's travel across the pond to the U.S.
There are a bunch of things going on here in the P2P space as well. We have Square Cash, as I wrote about last week, doing its thing with email and registered debit accounts (which Visa/MC probably really likes). You have clearXchange with its federation of banks (Bank of America, Chase, Wells Fargo and Cap One), and some 50 percent of U.S. checking accounts with the potential to be wired up in some way via a clearXchange network. The Fed, no doubt, is watching the Payments Council Paym launch with great interest and there might even be other players that have associations of banks as members looking too.
clearXchange, as you know, is well down the path of organizing their federation of banks and registered accountholders tied to existing online or mobile bank accounts and initiates payment using the recipient's mobile phone or email address. I sort of speculated on clearXchange's MO  back in February when CapOne joined forces with them and said that it wasn't out of the realm of possibility that they become an alternative set of rails, powered by ACH, that could both enable payment beyond the traditional P2P use cases and even become a network acceptance mark at physical and online point of sale.
The irony in the clearXchange and Paym models is that the very bank-owned business model that the networks ditched to become publicly traded companies could be reborn to potentially cut them out of the debit picture. That's not as crazy as it may sound. Banks own the DDA accounts and control them. So, why would they want to continue to issue debit cards on a Visa/MasterCard network when they can replicate the same function with an ACH-powered network that they own and control?
All that's missing is the business model.
Innovators have fantasized about an ACH-powered network for like forever in an effort to reduce the cost of payments and break their dependence on the existing payments networks and the interchange fee structure associated with it. It's what MCX is clearly interested in doing, it's why PayPal wants its customers to register their bank accounts to their PayPal accounts instead of their credit card accounts, and it's what every mobile app with a payments account registered to it wants too. The trick for these new potential "networks" will be how acceptance is priced. If it's too high, and merchants won't have any incentive to adopt; too low and banks won't be able to monetize their precious asset – the bank account.
It will also be interesting to watch how such a potential network development will impact partnerships and influence the incentives for those partnerships to take shape.  Remember, any new network, ACH network notwithstanding, still needs merchant acceptance. And, that can be a big pain and take time.
Could such a scheme give banks the digital wallets "legs" that they'd like to have? I still don't think so, since consumers, in my opinion, will still want one "digital container" into which their various payments instruments are assembled, including any new ACH-powered ones. But, this could make banks a more formidable partner since the third parties who seek to access those accounts would be competing with them for customer preference.  They'll certainly have a mechanism to monetize access to the funding resource that they own and incur costs to service – and a platform that could unleash all kinds of interesting innovations.
What's more is that these potential new ACH-enabled schemes just extend behavior that people already do in their mobile and online accounts – pay people and pay bills. Nielsen did a survey of consumers in November of 2013 that said that 82 percent of consumers have banked online at least once in the last 30 days. The Fed's survey of consumer payments habits reported that 21 percent of mobile phone users had adopted mobile banking and used it in the last 12 months, with 42 percent of mobile phone owners reporting that would definitely or probably use it in the next year. With the right user interface, consumers wouldn't have to go thru unnatural acts to use their phones to extend payment to merchants – larger, small and anywhere in between – online or at the physical store.
Collectively, banks probably have more mobile and online banking customers than anyone has registered accounts in digital wallets, and certainly more than the incumbent networks since they are just now getting their online/mobile wallets wings. Enabling payment for bank customers via an ACH-powered debit-like alternative would be quite disruptive and potentially hurt Visa in the US a whole lot more than MasterCard given Visa's dominant share of debit volume – not to mention creating some awkward moments as payments network  customers start competing with them. At that point, it could just be Katie-bar-the-door as the existing networks develop their own strategies to compete with these new ones and replenish lost debit volume.
Who would have ever thought that mobile banking could grow up to become one of the biggest threats to the payments networks since Judge Leon?
CEO, Market Platform Dynamics
(Source: PYMNTS.com)
GET CONNECTED